When you do business with Vacuum Cleaners of Idaho, you are dealing with a business that has been providing quality service to the area since 1960. We give you trusted repairs on your vacuum and a comprehensive warranty on our services. With over 35 years of repair experience, we give you quality repairs every time. Additionally, your existing warranty is honored here.
We are the local warranty station for: Beam, Dirt Devil, Electrolux, Eureka, Filter Queen, Hoover, Kirby, Miele, Oreck, ProTeam, Royal, and Sanitaire.
We repair every major brand of vacuum right here in our shop with most repairs ready to go by the next day. It's our passion to sweep you off your feet with spectacular, fast, and accurate service.
Buy a new vacuum
We offer a wide selection of vacuum cleaners in our showroom. We take pride in providing you with the top brands along with a warranty. Find the vacuum you need with the help of our friendly staff.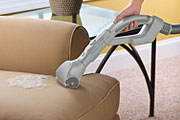 Authorized dealer of the top brands
You will find the vacuum cleaners you want among our wide selection of name brand products. We are authorized dealers of: Beam, Dirt Devil, Eureka, Hoover, Miele, Oreck, Proteam, Royal, and Sanitaire.
We help you save
You never overspend on your repairs with us. We always give you affordable products and services. Learn more about our service plans that give you discounted repairs and more. Enjoy FREE estimates.